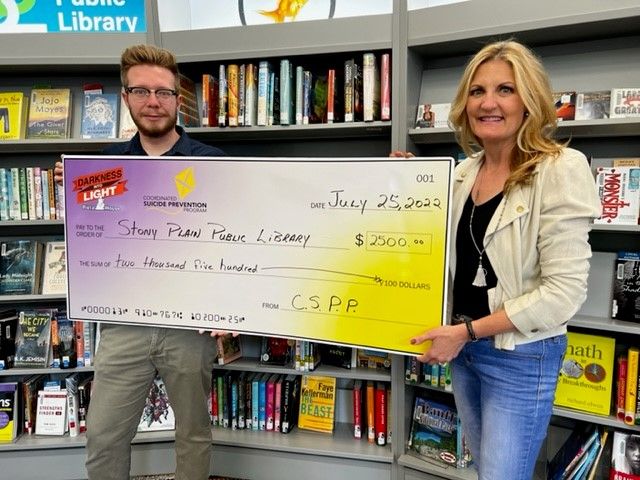 Stony Plain Public Library Receives Coordinated Suicide Prevention Program Donation
Content of the article
A generous donation was made to the Stony Plain Public Library.
Content of the article
The City's Coordinated Suicide Prevention Program (CSPP) donated $2,500 to the library to help community members struggling with their mental health.
"Users come to the library for a wide variety of reasons. Maybe it's because they're going on vacation and they need a book to read on the beach. It may also be because they are going through a very difficult time in their lives and the library is a safe, free and welcoming place where they can find help," said Robert McClure, Director, SPPL.
The donation was made in memory of Marc Renaud, a resident of Stony Plain who was a member of the Edmonton Fire and Rescue Services for seven years. In 2018, Renaud took his own life aged 29 after suffering from depression and post-traumatic stress disorder (PTSD).
Content of the article
The library was chosen as the recipient of this donation because of its accessibility; the facility is open to all community members six days a week, free of charge. McClure said there will now be more resources within the library for residents to use to navigate difficult times in their lives.
"The library can provide easy access to a wide variety of mental health-related information that might not be readily available," said Michelle Zoschke of CSPP.
The plan is to spend the $2,500 fairly on various mental health-related resources over the next three years. McClure said these resources will appeal to different ages and audiences and will be available in a range of accessible formats, including books, audiobooks, children's books, graphic novels, and more.
Content of the article
The first batch has already been ordered and includes titles such as Day-to-Day Grief: Simple Daily Practices to Help You Survive…and Thrive by Alan D. Wolfelt, The Anatomy of Anxiety: Understanding and Overcoming the Body's Fear Response by Ellen Vora Sinkhole: A Legacy of Suicide by Juliette Patterson, and Holden After and Before: A Love Letter to a Son Lost to an Overdose by Tara McGuire. McClure said residents can expect to see these books on library shelves in the coming weeks. He pointed out that while the library can provide useful mental health resources, its staff are not trained mental health professionals.
"We are learning more and more about the importance of mental health and how to prioritize it as a society in general and in our operations here at the library. We want to have as wide a range of formats as possible that people can choose from," McClure said.
Content of the article
Based in Stony Plain, the CSPP is a prevention and education program serving the tri-municipal area through the city's Community and Social Development Department. It works in partnership with schools and community groups to reduce suicide stigma, build community capacity by equipping individuals with knowledge and skills to respond to those at risk of suicide, provide resources for suicide support and support those who have lost loved ones to suicide.
In 2021, Stony Plain was one of the first ten to join the Mental Health Commission of Canada's (MHCC) Roots of Hope Community Suicide Initiative. The three-year project focuses on five aspects of suicide prevention, including specialist support, training and networks, public awareness campaigns, means restriction and research.
SPPL is located at 5216 Street, Stony Plain, and is open Monday through Friday from 10 a.m. to 8 p.m. and Saturday from 11 a.m. to 4 p.m.
"We're just going to continue doing what libraries always do – be a safe and welcoming place where people can come in and be themselves for free," McClure said.