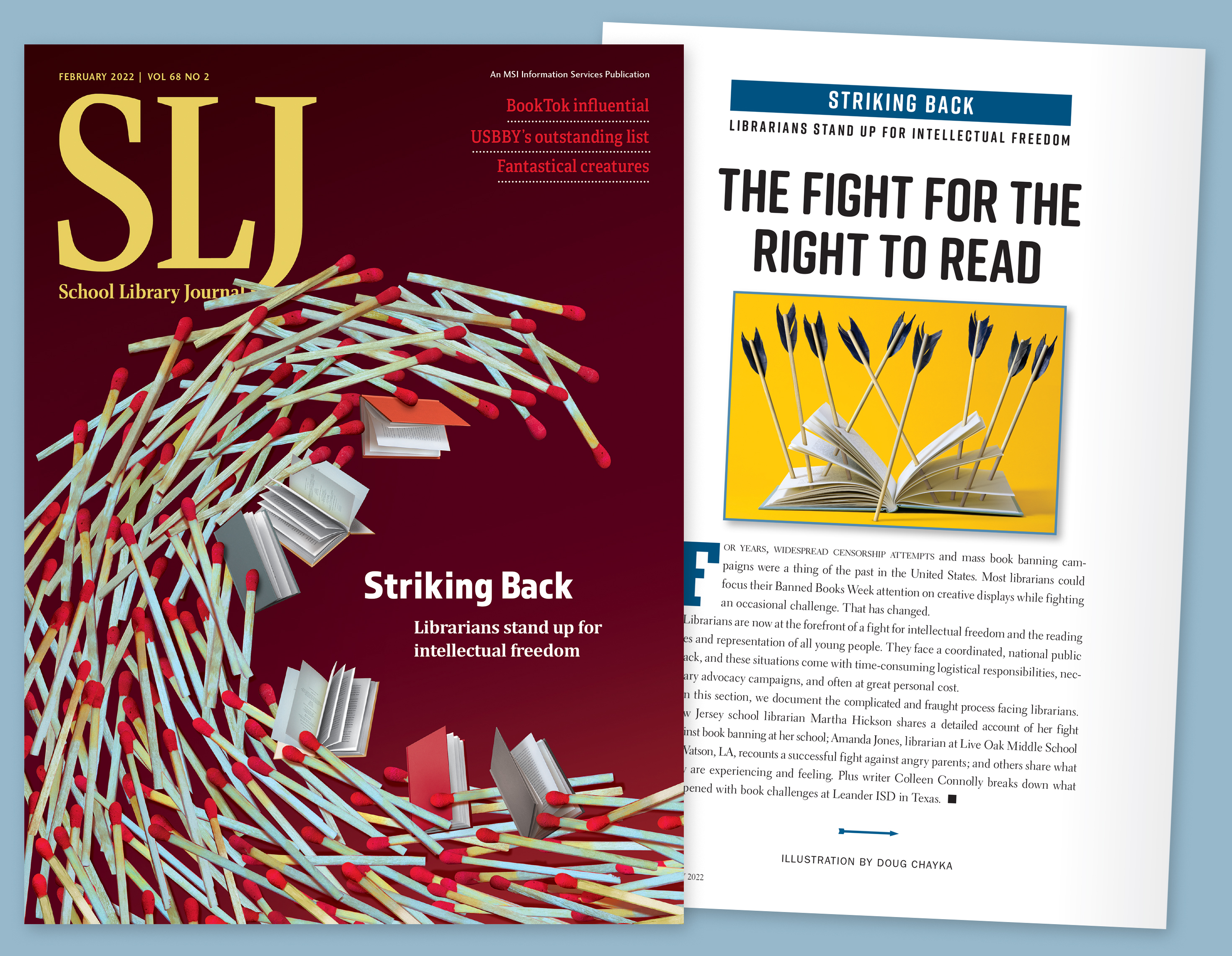 SLJ is a 2022 FOLIO Awards Finalist for Editorial and Design Excellence
School library journal was named a finalist for the 2022 FOLIO Awards for its coverage of censorship.
School library journal (SLJ) was named a finalist in the 2022 FOLIO Award for its censorship coverage in two categories.
"Striking Back," our February 2022 cover, was honored for cover design among B2B publications in the under 25,000 circulation category. With illustration by Doug Chaykaart direction by Mark Tuchman, SLJ creative director, the cover is a finalist for an Ozzie Award, which recognizes design excellence.
In the 2022 Eddies – honoring editorial achievement in print and digital media –SLJ is a finalist for best overall series of articles in B2B publishing for its coverage of censorship, also in February. Features included: Fight for the right to read: librarians lead the battle for intellectual freedom; Battle Tested: A school librarian shares her story by Martha Hickson (pictured); On the Front Line: Stories from the SLJ Whistleblower Line by Colleen Connolly; and Anatomy of a Challenge: Examination of a book ban in Leander, TX, which preceded a series of nationwide challenges, by Colleen Connolly. The cover was edited and produced by Sarah Bayliss, SLJ Feature Editor, Kara Yorio, News Editor, and SLJ Personal.
Honoring the best in writing and design, the annual Eddie and Ozzie Awards are presented by FOLIO. The winners will be announced in New York in September.
Get the print. Go digital. Get both!