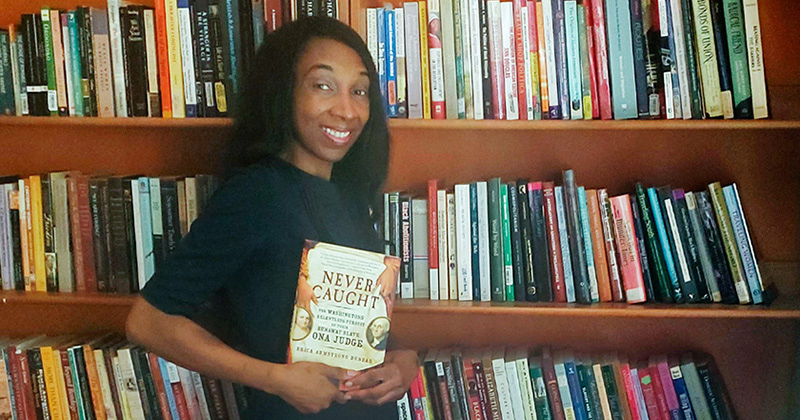 Sharing Hidden Stories | UDaily
Article by Allison Ebner
Photos courtesy of Katrina Anderson
August 16, 2022
Doctoral candidate Katrina Anderson collects books about black heroines to share with her daughter
Editor's note: This is the latest in a series of articles highlighting the winners of the third annual Seth Trotter Book Collecting Contest, sponsored by the Friends of the University of Delaware Library.
Katrina Anderson, a PhD student in history, instilled in her daughter a deep affinity for reading. When Anderson's daughter was in kindergarten and first grade, they read 1,500 books together, earning the young reader some well-deserved trophies. This year, her daughter completed second grade after reading 500 books on her own.
But there is a major difference in their shared love of reading.
Growing up as an African American woman, Anderson did not have easy access to the stories and stories of black female heroes. Other than Rosa Parks and Marian Anderson, she didn't even know there were other notable black women in American history until she entered college.
Anderson is working to ensure that this is not the case for her daughter by building the book collection, Uncovering the Hidden Lives of Women of African Descent in the Atlantic World, 1600-1865.
Anderson's collection of approximately 150 books focuses on the history of black women and travels not just to the United States, but throughout the Atlantic world – think Europe, South America, the islands Caribbean and even to Russia. (This collection represents only a quarter of her entire collection, which also includes 500 other books on the experiences of women – whether black, white or Indigenous – in the 21st century.)
The collection brings together the often marginalized and overlooked experiences and voices of black women. You can learn about Sarah Parker Remond, a transnational abolitionist; Eliza Potter, a hairstylist who has traveled to the United States and Europe; Rebecca Protten, a missionary who helped spread black Christianity across the world; Nancy Princa, a businesswoman and missionary who has traveled to Russia and Jamaica; sisters Anne Hart Gilbert and Elizabeth Hart Thwaites, educators and anti-slavery activists who became the first writers in the Afro-Caribbean world; and so many others.
For Anderson, building the collection was a labor of love and research. While at UD, she worked with scholars who deepened her knowledge of black women's history, including Erica Armstrong-Dunbar, former Blue and Gold Distinguished Professor of Black American Studies and History, and Anne Boylan, Professor Emeritus of History and Women and Gender Studies.
The collection, which she began building 10 years ago, is a personal passion and a direct result of her thesis work on Black women's travel experiences.
"It's almost where I don't see it as a job because I love these books so much," Anderson said. "It's exciting to see how stories and narratives influence my own work. Part of being a historian is picking up [where an author left off] or where they hadn't been, and you push that envelope to fill in those missing gaps for historiography. So it's been a very, very exciting process.
Finding those books – new and old – is part of the fun. In addition to searching Amazon, Alibris, AbeBooks, and other online retailers for interesting titles, Anderson scours current dissertations to see when they might be turned into books; discovers new sources through the New Books Network podcast channels; and combs through scholarly journals and library catalogs for suggestions. She is committed to maintaining a strong collection and giving a home to stories that have gone undiscovered for far too long.
"I'm always looking, always looking, and always finding something that can be added to my collection," Anderson said, noting a boom in the number of books published on black women's history over the past five years. in 10 years. "The women who make up this collection have often been silenced for so long, and it is through, I would say, the meticulous research of many historians that they have been able to make their voices heard. And I try to make the same thing in my thesis and my collection.
This ability to share such important stories with others, especially her daughter, is the most rewarding part of the collection. Anderson aims to build such a large collection that she can give some of it to students to further their learning and the rest to her daughter, who is already a budding collector.
"My daughter will be able to see these black heroines [I didn't learn about growing up] because I have a collection now," Anderson said. "She will be able to learn more about their experiences, about people she admires. She can see that women's experiences are very varied and that there are so many things you can do and so many options you have.
As Anderson builds her collection, reading each book and discovering these amazing women's stories, she also changes. "Every book in this collection is near and dear to my heart," she said. "They are part of who I am and they have shaped my views and how I see things. You can see how far we have come based on their experiences, but also see how far we still have to go.
Seth Trotter Book Collecting Contest
Katrina Anderson is one of three winners of the third annual Friends of the University of Delaware Library Seth Trotter Book Collecting Contest 2021. The other winners are Margaret O'Neil and Logan Gerber-Chavez. The Friends created the contest to encourage reading and research, the building of personal libraries, and an appreciation of printed or illustrated works for enjoyment and scholarship among UD undergraduate and graduate students. Friends of the University of Delaware Library Provide Fundraising Support for UDs Library, Museums and Press.