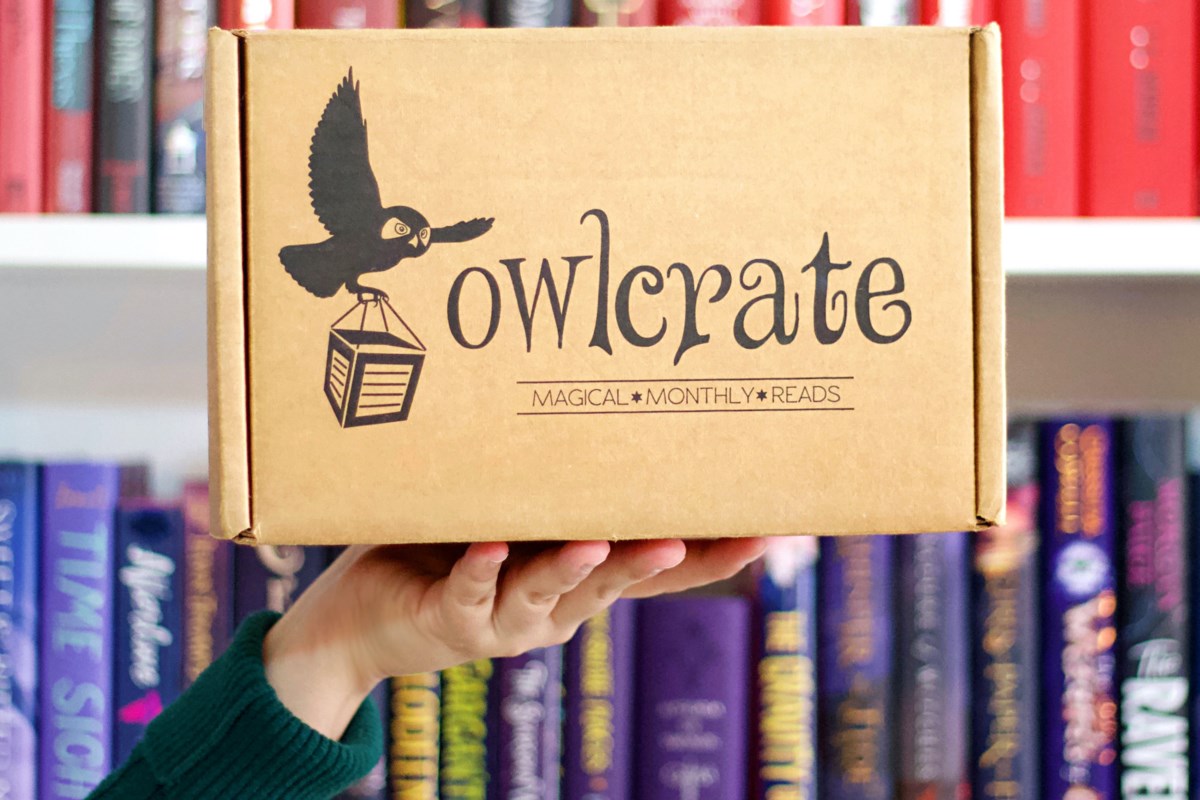 Owl Crate is one of the few book subscription boxes in Canada
How to build a book box.
"One of the things we look for the most is just a unique story," says Korrina Ede, co-founder of OwlCrate.
Vancouver's book subscription service creates a monthly themed box with a young adult book and assorted book treats (they also have OwlCrate Jr. for kids ages 8-12). "Something unique that would help us build a theme that we've never done before."
Ede started OwlCrate in 2015 with her boyfriend Robert. Originally, she just wanted to start a little gift shop for bookworms, but Robert encouraged her to consider the idea of ​​a subscription box, a novel concept at the time. "We were like, 'Yeah, I think the young adult community would really like that,'" Ede says. "And luckily it took off right away. It's just been a wild ride ever since."
Over the past seven years, similar book subscription boxes have popped up all over the place, but OwlCrate remains one of the few of its kind in Canada, let alone Vancouver. Ede says this is partly due to the challenges of production in Canada. "I feel like publishers, in general, are really hungry for new avenues to sell their books. So this part was not difficult. The part that was probably the most difficult when we started was the fact that we were in Canada, which just caused some issues with shipping more than anything."
Ede remembers the crazy effort they had to put in just to put the boxes together. "We would order all the fun extra gifts and books for our boxes and ship them to Blaine, Washington, then we would cross the border, pick them up, take them through customs in Canada, pack the boxes in our basement suite, ship Canadian shipments from the Vancouver Post Office, then bring US shipments back across the border and ship through the Blaine, Washington Post Office.
It was a lot for the new team to juggle at first, but now that they've grown and introduced special edition book releases as well as additional projects alongside monthly boxes, they're shipping everything in and out of one hub. distribution in Oregon. Their team and officers are still based in Vancouver.
Ede and his partner worked at the Granville Island Toy Company before starting OwlCrate, and while working there developed an idea of ​​what kind of popular gifts were and how to find them. Ede was also extremely active in the Etsy community and said for the more unique things like candles and such, "I would search Etsy for small businesses and just contact them and say 'Do you want to create something custom for our box? Do you have the ability to do so many things by hand?' and it would kind of go from there."
Now OwlCrate is producing more custom items and even making their own products, but Ede says working with small businesses is still very important to them and they try to include a small business in every box. "We always like to source all the artwork we use from independent artists and support people that way," she adds.
As for the process of building each box, Ede explains, "we read a lot of old manuscripts for the books and once we've chosen a book that we think our subscribers will like and that we could create a cool theme around and the editor says yes, so we kind of start brainstorming."
Previous themes have included 'Romance and Rivalry', 'The Chosen One' and 'Peek Behind the Curtain' and some special edition books from authors like Stephanie Garber, Holly Black and VE Schwab with great covers exclusive to independent artists.
Even though the books are largely in the young adult genre, many subscribers are older than that demographic and the BookTok community only reinforces the idea that YA books aren't really just for teens, especially not teens. fantastic books.
Ede says they consider a book's readability when selecting it. "We want people to be able to open their box and start reading and be instantly hooked."