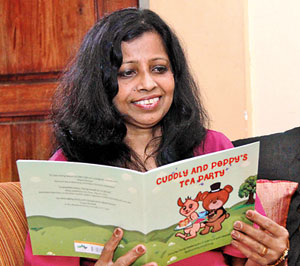 Memories of a Friendship brings a children's book to life | Print edition
By Shannon Salgadoe
Views) :
It is human to want to honor the memory of a loved one, friend or family member. Instead of the usual memorial service, alms and charitable donations, Angela Gnaniah chose to remember her close friend Cheryl Ramanayake by writing a children's book, Cuddly and Poppy's Tea Party, in her memory.
Angela and Cheryl had been friends since childhood. They lived in the same neighborhood and walked to school – St. Bridget's Convent – ​​and back together. An unfortunate setback with her health left Cheryl with many physical limitations which however did not prevent her from living her life to the best of her ability aided by her many friends who made it a point to meet her regularly.
The pandemic and resulting lockdowns put an end to those social outings, which were later swapped for regular phone calls that helped keep Cheryl's spirits up. It was during one such call in 2021 that Angela and Cheryl got the ball rolling with this particular story.
It started with a random question about favorite animals. Going out for tea was a regular occurrence among friends and one of Cheryl's favorite activities and soon ideas about animals and their imaginary activities led to the story of a tea party and all the food a such a feast implies. It was sadly days after Cheryl contracted COVID-19 and succumbed to it two weeks later. Cheryl had been very insistent that Angela finish the story and encouraged her to do so several times: "The story was unfinished and I thought it was a perfect way to pay homage to her. It was hard because I was grieving, but I decided to do it," says Angela, who also found writing the book to be therapeutic.
Cuddly and Poppy's Tea Party is about Cuddly, a teddy bear and Poppy, a kangaroo, who decide to have a tea party one afternoon. It's written in the vein of Beatrix Potter whose furry creations were Angela's favorite as a child. Drawing inspiration from their own lives, Angela wanted to portray unity in diversity by including badgers and grasshoppers, animals not usually found in similar fictional settings.
Once she finished writing the story, she sent it to friends who quickly came back with positive feedback, culminating in contacting Jeremy Muller of The
Jam Fruit Tree Publications. Angela was also looking for an illustrator and was lucky to find one in Farah Fazly, whose sample illustrations called her – "she really fell in love with the story and she permeated the feeling of friendship in the illustrations".
A mother of two and a banker for 30 years, Angela had tried her hand at writing poems and songs in her spare time, but was always intimidated by bigger writing tasks. She sees writing this book as a journey of discovery. She has now started writing a novel. Next, she hopes to have Cuddly and Poppy's Tea Party translated into Sinhalese and Tamil.
A portion of the proceeds from the sale of the book will be donated to LEADS, an organization dedicated to providing safe spaces for children who have been abused. Angela has been involved in fundraising for them for many years.
Cuddly and Poppy's Tea Party will kick off as it should, on Children's Day – October 1 at Cinnamon Gardens
Baptist Church at 4:30 p.m.
Looking for an ideal partner? Find your soul mate on Hitad.lk, Sri Lanka's favorite site marriage proposals page. With Hitad.lk marriage ads, you have access to thousands of ads from potential suitors who are looking for someone like you.