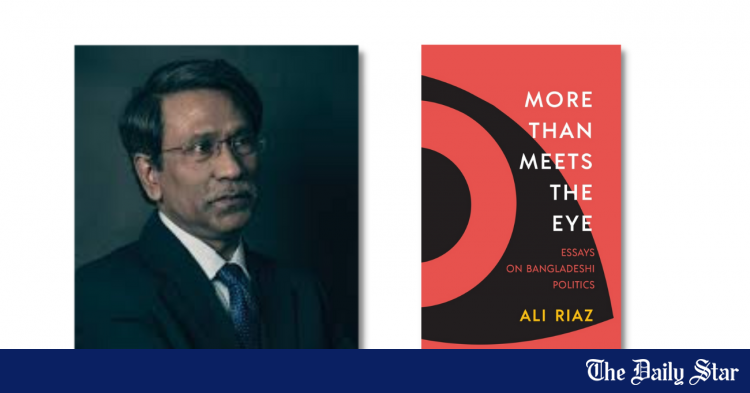 Ali Riaz, UPL, discusses "More than meets the eye: essays on Bangladeshi politics"
Yesterday, July 23, The University Press Limited (UPL) held a book launch event More than the eye can discern, written by the eminent political science professor, Ali Riaz. The event took place at the UPL headquarters located in Farmgate.
Professor Riaz Ali in his collection discusses the effects and outcomes of the dramatic changes that have taken place in Bangladeshi politics over the past decades. In addition to assessing democracy, social integration and the role of state institutions in Bangladesh, the author has also attempted to determine current political trends as well as trends that may emerge in the future with his insight.
Attending the event and discussions on the book were Saeed Ferdous, Professor in the Department of Anthropology, Jahangirnagar University; editor and writer, Nurul Kabir; Asif M. Shahan, Associate Professor, Department of Development Studies, University of Dhaka; the writer, Ali Riaz, who is also a Distinguished Professor in the Department of Politics and Government at Illinois State University, USA; and UPL Director General Mahrukh Mohiuddin.
Mahrukh Mohiuddin, while introducing the book, said that More than the eye can discern was first released during the Ekushey Boi Mela 2022, however, due to the compilation's relevant thematic essays, a discussion of the book during this time was desirable.
"More than the eye can discern […] documents the trajectory of the past few decades and places them in the major trends since the country's independence 50 years ago". Some of the chapter titles and their subsequent essays include, "An Ideal Vision of Democracy in Bangladesh", "Understanding the radicalization of Bangladeshi society and politics", and "Religious radicalization in Bangladesh".
When asked if his "political agreement" was between the incumbent government and the opposing political party, or civilian and/or military entities, or the nation's businessmen, Professor Riaz replied: "[in this settlement] there is no political entity. Rather, it is an understanding between the coercive apparatus and the bureaucracy, which did not exist in Bangladesh before."
More than the eye can discern can be purchased from the University Press Limited website or office, priced at BDT 550.00.